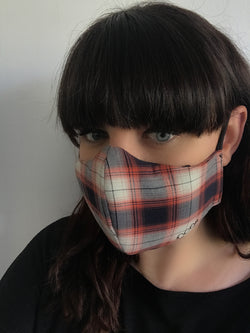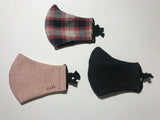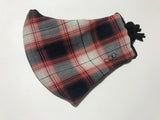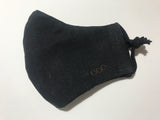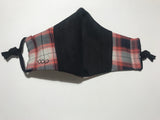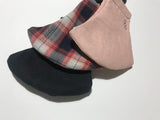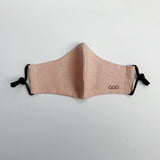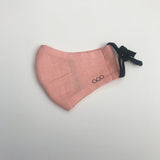 Our reusable unisex fitted face masks have been constructed from our beautiful stock of sustainable fabrics (mainly hemp/organic cotton) to help our community stay safe and stylish.  
These fitted masks are have been designed to be robust, and whilst initially firm, they will soften over time.  Fitted to shape the nose and mouth, each mask has adjustable earloop ties made from soft hemp/organic cotton knit.   Our masks are also designed to be worn two different ways depending on the shape of your face (so give it a try upside down).
Each mask is made up of 5+ layers of protection including;
2 layers of sustainable natural fabric (inner/outer shell) - See Below for current fabric stock
2 layers woven interlining (fused to inner/outer shell) 
A replaceable, PM2.5 (5 layers) carbon filter (inserts into the internal pocket) 
Materials and Fabrication
Peach - Hemp/Organic Cotton dyed with Oeko-tex certified dyes.  Lighter fabric weight (our reality shirt fabric).  
Check print - 100% Organic Cotton.  Medium weight mask in limited stock fabric.  
Black - Linen/Cotton blend deadstock.  Medium weight mask in limited stock fabric.  
All masks come with black ear loops as a standard.  We also stock khaki green ear loops or longer head loops (in both black and khaki), should you want these instead please email us immediately after you have processed your order so we can include these in your package.  
Note that all our fabrics being natural may shrink ever so slightly and will also soften with washing.
Some internal shell colours may be different depending on our fabric stock.  They will either be the same colour as the outer shell or a complimentary colour.  This is to ensure we are minimising waste in our cutting process.
Made in Australia 
Each mask has been made in our local studio here in Melbourne, Australia.  
Postage
We offer FREE untracked postage via Australia Post with each purchase.  Purchases of two or more masks will receive tracked regular postage.
We also offer an $8 flat rate Express post (and may be a good option if you want your mask quickly, given current postage delays).
T&Cs
Our masks have been designed for general public use and are not of medical grade.  
All masks are final sale, no refund or exchanges.  Should you have any issues with your masks however, please feel free to contact us at hello@noblekind.com so we can help.

Giving Back
$2 from the sale of each mask, like our garments, will go to Sea Sheppard to support their ongoing efforts of protecting our oceans. 
Sizing
Our unisex masks have been made to fit an average head (55-63cm).  These masks are designed to be fitted around the face but do not form a tight seal.  They are also designed to be able to be worn either way, so try your mask with the logo at the top or the bottom depending on your face shape.
For childrens, small or XL orders, please contact us directly at hello@noblekind.com.au as we have made plenty of orders to suit and would be more than happy to help you out.  

The mask ear loops have been left untied to allow customers to fit these to their unique head size.  Simply tie the earloop in a knot to secure, and pull it back through the mask seam to hide the knot.  Over time these ear loops may stretch with use and can be removed and replaced to extend the life of the mask.
Care Instructions
Recommend hot hand washing with mild detergent.  If you need to machine wash your mask, a protective bag is highly recommended. 
Hot iron
Do not bleach
Do not wring
Do not dry clean
Every person should have their own masks, these should not be shared between individuals (even if they are clean).  

Resources
Further information on face masks can be found at these Government websites.
Victoria, Australia; further information can be found here.
New South Wales, Australia; find further information here.
Australian Government - Department of Health Information here.
Centre Disease Control information here.
World Health Organisation (WHO) Mask guidance here.